Follow Your Favorites!
Sign in
to get custom notifications of new products!

Featured Product
Cosmic Cutthroats RPG
by Imperfekt Gammes
Cosmic Cutthroats is a multi-genre RPG game of adventure and exploration through endless worlds. Your scavengers, exiles, and freeloaders can come from any place, any time, fighting tyranny and seeking new highs through unimaginable realms! Includes an interdimensional adventure hub, the sprawling city of Uru Ulan! Check it out today!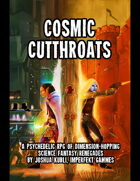 | Products found in this section... | Sort by: |
| --- | --- |
| | | |
| --- | --- | --- |
| Title | Publisher ▲ | Price |
| This product is part of our Stock Art Collection: Perfectly suited for publishers, games-designers and games-masters. Easy to use and at a affordable price! The image has a typical medieval Fantasy flair to it. This stock art is the perfect fit for Epic Fantasy titles likes RPGs, Sourcebooks, Boardgames, Cardgames, Player-Aids, Websites and more. The image is to a certain degree also usable in certain... [click here for more] | 1manstudio | $5.95 $4.99 |
| This product is part of our Stock Art Collection: Perfectly suited for publishers, games-designers and games-masters. Easy to use and at a affordable price! The image has a typical medieval Fantasy flair to it. This stock art is the perfect fit for Epic Fantasy titles likes RPGs, Sourcebooks, Boardgames, Cardgames, Player-Aids, Websites and more. The image is to a certain degree also usable in certain... [click here for more] | 1manstudio | $4.99 |
| This product is part of our Stock Art Collection: Perfectly suited for publishers, games-designers and games-masters. Easy to use and at a affordable price! The image has a typical medieval Fantasy flair to it. This stock art is the perfect fit for Epic Fantasy titles likes RPGs, Sourcebooks, Boardgames, Cardgames, Player-Aids, Websites and more. The image is to a certain degree also usable in certain... [click here for more] | 1manstudio | $4.99 |
| This product is part of our Stock Art Collection: Perfectly suited for publishers, games-designers and games-masters. Easy to use and at a affordable price! The image has a typical medieval Fantasy flair to it. This stock art is the perfect fit for Epic Fantasy titles likes RPGs, Sourcebooks, Boardgames, Cardgames, Player-Aids, Websites and more. The image is to a certain degree also usable in certain... [click here for more] | 1manstudio | $4.99 |
| "No person who is not a great sculptor or painter can be an architect. If he is not a sculptor or painter, he can only be a builder." - John Ruskin Genre: Medieval/High-Fantasy Image Details: Full Color + Background (single layer) Image Format: PNG Keywords: Builder, Master, Architect, Construction, Building Variants:... [click here for more] | 1manstudio | $5.95 $4.99 |
| "Come with me, my love. I am your bride." - Banshee Quote Genre: Medieval/High-Fantasy Image Details: Full Color + Background (single layer) Image Format: PNG Keywords: Banshee, Ghost, Spectre, Night, Wraith, Poltergeist, Dark Forest Variants: 2 (72dpi/300dpi) Variant... [click here for more] | 1manstudio | $5.95 $4.99 |
| "A pleasant surprise is coming your way." - Unknown Genre: Medieval/High-Fantasy Image Details: Full Color + Background (single layer) Image Format: PNG Keywords: Basilisk, Lizard, Fable, Creature, Cave, Snake Variants: 2 (72dpi/300dpi) Variant A Size:... [click here for more] | 1manstudio | $5.95 $4.99 |
| This product is part of our Stock Art Collection: Perfectly suited for publishers, games-designers and games-masters. Easy to use and at a affordable price! The image has a typical medieval Fantasy flair to it. This stock art is the perfect fit for Epic Fantasy titles likes RPGs, Sourcebooks, Boardgames, Cardgames, Player-Aids, Websites and more. The image is to a certain degree also usable in certain... [click here for more] | 1manstudio | $5.99 |
| This product is part of our Stock Art Collection: Perfectly suited for publishers, games-designers and games-masters. Easy to use and at a affordable price! The image has a typical medieval Fantasy flair to it. This stock art is the perfect fit for Epic Fantasy titles likes RPGs, Sourcebooks, Boardgames, Cardgames, Player-Aids, Websites and more. The image is to a certain degree also usable in certain... [click here for more] | 1manstudio | $5.99 |
| This product is part of our Stock Art Collection: Perfectly suited for publishers, games-designers and games-masters. Easy to use and at a affordable price! The image has a typical medieval Fantasy flair to it. This stock art is the perfect fit for Epic Fantasy titles likes RPGs, Sourcebooks, Boardgames, Cardgames, Player-Aids, Websites and more. The image is to a certain degree also usable in certain... [click here for more] | 1manstudio | $5.99 |
| This product is part of our Stock Art Collection: Perfectly suited for publishers, games-designers and games-masters. Easy to use and at a affordable price! The image has a typical medieval Fantasy flair to it. This stock art is the perfect fit for Epic Fantasy titles likes RPGs, Sourcebooks, Boardgames, Cardgames, Player-Aids, Websites and more. The image is to a certain degree also usable in certain... [click here for more] | 1manstudio | $5.95 $4.99 |
| This product is part of our Stock Art Collection: Perfectly suited for publishers, games-designers and games-masters. Easy to use and at a affordable price! The image has a typical medieval Fantasy flair to it. This stock art is the perfect fit for Epic Fantasy titles likes RPGs, Sourcebooks, Boardgames, Cardgames, Player-Aids, Websites and more. The image is to a certain degree also usable in certain... [click here for more] | 1manstudio | $5.99 |
| This product is part of our Stock Art Collection: Perfectly suited for publishers, games-designers and games-masters. Easy to use and at a affordable price! The image has a typical medieval Fantasy flair to it. This stock art is the perfect fit for Epic Fantasy titles likes RPGs, Sourcebooks, Boardgames, Cardgames, Player-Aids, Websites and more. The image is to a certain degree also usable in certain... [click here for more] | 1manstudio | $5.99 |
| This product is part of our Stock Art Collection: Perfectly suited for publishers, games-designers and games-masters. Easy to use and at a affordable price! The image has a typical medieval Fantasy flair to it. This stock art is the perfect fit for Epic Fantasy titles likes RPGs, Sourcebooks, Boardgames, Cardgames, Player-Aids, Websites and more. The image is to a certain degree also usable in certain... [click here for more] | 1manstudio | $11.97 |
| Every particular in nature, a leaf, a drop, a crystal, a moment of time is related to the whole, and partakes of the perfection of the whole." - Ralph Waldo Emerson Genre: Medieval/High-Fantasy Image Details: Full Color + Background (single layer) Image Format: PNG Keywords: Crystal, Tome, Book, Magic, Spell,... [click here for more] | 1manstudio | $5.95 $4.99 |
| Our Gold Line Stock Art Collection is targeted towards professional producers, publishers and game designers. Bringing you fantastic, high quality images one at a time. The contained image has a strong High-Fantasy, Fantasy and partly Medieval theme to it. This stock art is the perfect fit for professional projects like RPGs, Sourcebooks,... [click here for more] | 1manstudio | $5.99 |
| Our Gold Line Stock Art Collection is targeted towards professional producers, publishers and game designers. Bringing you fantastic, high quality images one at a time. The contained image has a strong High-Fantasy, Fantasy and partly Medieval theme to it. This stock art is the perfect fit for professional projects like RPGs, Sourcebooks,... [click here for more] | 1manstudio | $5.99 |
| Our Gold Line Stock Art Collection is targeted towards professional producers, publishers and game designers. Bringing you fantastic, high quality images one at a time. The contained image has a strong High-Fantasy, Fantasy and partly Medieval theme to it. This stock art is the perfect fit for professional projects like RPGs, Sourcebooks,... [click here for more] | 1manstudio | $5.99 |
| Our Gold Line Stock Art Collection is targeted towards professional producers, publishers and game designers. Bringing you fantastic, high quality images one at a time. The contained image has a strong High-Fantasy, Fantasy and partly Medieval theme to it. This stock art is the perfect fit for professional projects like RPGs, Sourcebooks,... [click here for more] | 1manstudio | $5.99 |
| Our Gold Line Stock Art Collection is targeted towards professional producers, publishers and game designers. Bringing you fantastic, high quality images one at a time. The contained image has a strong High-Fantasy, Fantasy and partly Medieval theme to it. This stock art is the perfect fit for professional projects like RPGs, Sourcebooks,... [click here for more] | 1manstudio | $5.99 |
| This product is part of our Stock Art Collection: Perfectly suited for publishers, games-designers and games-masters. Easy to use and at a affordable price! The image has a typical medieval Fantasy flair to it. This stock art is the perfect fit for Epic Fantasy titles likes RPGs, Sourcebooks, Boardgames, Cardgames, Player-Aids, Websites and more. The image is to a certain degree also usable in certain... [click here for more] | 1manstudio | $5.95 $4.99 |
| This product is part of our Stock Art Collection: Perfectly suited for publishers, games-designers and games-masters. Easy to use and at a affordable price! The image has a typical medieval Fantasy flair to it. This stock art is the perfect fit for Epic Fantasy titles likes RPGs, Sourcebooks, Boardgames, Cardgames, Player-Aids, Websites and more. The image is to a certain degree also usable in certain... [click here for more] | 1manstudio | $5.95 $4.99 |
| "Ignorance is the curse of God; knowledge is the wing wherewith we fly to heaven" - William Shakespeare Genre: Medieval/High-Fantasy Image Details: Full Color + Background (single layer) Image Format: PNG Keywords: Curse, Hex, Death, Magic, Sorcery, Spell, Witchcraft Variants: 2 (72dpi/300dpi) Variant... [click here for more] | 1manstudio | $5.95 $4.99 |
| This product is part of our Stock Art Collection: Perfectly suited for publishers, games-designers and games-masters. Easy to use and at a affordable price! The image has a typical medieval Fantasy flair to it. This stock art is the perfect fit for Epic Fantasy titles likes RPGs, Sourcebooks, Boardgames, Cardgames, Player-Aids, Websites and more. The image is to a certain degree also usable in certain... [click here for more] | 1manstudio | $5.95 $4.99 |
| "Caught in the dust of a desert plain" - Echobelly (Djinn) Genre: Medieval/High-Fantasy Image Details: Full Color + Background (single layer) Image Format: PNG Keywords: Djinn, Genie, Efreet, Lamp Variants: 2 (72dpi/300dpi) Variant A Size: 2500*1766px @ 72dpi Variant... [click here for more] | 1manstudio | $5.95 $4.99 |
| This product is part of our Stock Art Collection: Perfectly suited for publishers, games-designers and games-masters. Easy to use and at a affordable price! The image has a typical medieval Fantasy flair to it. This stock art is the perfect fit for Epic Fantasy titles likes RPGs, Sourcebooks, Boardgames, Cardgames, Player-Aids, Websites and more. The image is to a certain degree also usable in certain... [click here for more] | 1manstudio | $5.99 |
| This product is part of our Stock Art Collection: Perfectly suited for publishers, games-designers and games-masters. Easy to use and at a affordable price! The image has a typical medieval Fantasy flair to it. This stock art is the perfect fit for Epic Fantasy titles likes RPGs, Sourcebooks, Boardgames, Cardgames, Player-Aids, Websites and more. The image is to a certain degree also usable in certain... [click here for more] | 1manstudio | $5.99 |
| This product is part of our Stock Art Collection: Perfectly suited for publishers, games-designers and games-masters. Easy to use and at a affordable price! The image has a typical medieval Fantasy flair to it. This stock art is the perfect fit for Epic Fantasy titles likes RPGs, Sourcebooks, Boardgames, Cardgames, Player-Aids, Websites and more. The image is to a certain degree also usable in certain... [click here for more] | 1manstudio | $5.99 |
| "Coal Mining is tough. Acting is just tedious." - Johnny Knoxville Genre: Medieval/High-Fantasy Image Details: Full Color + Background (single layer) Image Format: PNG Keywords: Miner, Dwarf, Mining, Underground, Mine, Gold, Vein Variants: 2 (72dpi/300dpi) Variant A Size: 2500*1468px... [click here for more] | 1manstudio | $5.95 $4.99 |
| This product is part of our Stock Art Collection: Perfectly suited for publishers, games-designers and games-masters. Easy to use and at a affordable price! The image has a typical medieval Fantasy flair to it. This stock art is the perfect fit for Epic Fantasy titles likes RPGs, Sourcebooks, Boardgames, Cardgames, Player-Aids, Websites and more. The image is to a certain degree also usable in certain... [click here for more] | 1manstudio | $11.97 |
| This product is part of our Stock Art Collection: Perfectly suited for publishers, games-designers and games-masters. Easy to use and at a affordable price! The image has a typical medieval Fantasy flair to it. This stock art is the perfect fit for Epic Fantasy titles likes RPGs, Sourcebooks, Boardgames, Cardgames, Player-Aids, Websites and more. The image is to a certain degree also usable in certain... [click here for more] | 1manstudio | $5.99 |
| This product is part of our Stock Art Collection: Perfectly suited for publishers, games-designers and games-masters. Easy to use and at a affordable price! The image has a typical medieval Fantasy flair to it. This stock art is the perfect fit for Epic Fantasy titles likes RPGs, Sourcebooks, Boardgames, Cardgames, Player-Aids, Websites and more. The image is to a certain degree also usable in certain... [click here for more] | 1manstudio | $5.99 |
| This product is part of our Stock Art Collection: Perfectly suited for publishers, games-designers and games-masters. Easy to use and at a affordable price! The image has a typical medieval Fantasy flair to it. This stock art is the perfect fit for Epic Fantasy titles likes RPGs, Sourcebooks, Boardgames, Cardgames, Player-Aids, Websites and more. The image is to a certain degree also usable in certain... [click here for more] | 1manstudio | $5.95 $4.99 |
| "All warfare is based on deception. There is no place where espionage is not used. Offer the enemy bait to lure him." - Sun Tzu Genre: Medieval/High-Fantasy Image Details: Full Color + Background (single layer) Image Format: PNG Keywords: Spionage, Espionage, Spy, Scout, Lookout Variants:... [click here for more] | 1manstudio | $5.95 $4.99 |
| This product is part of our Stock Art Collection: Perfectly suited for publishers, games-designers and games-masters. Easy to use and at a affordable price! The image has a typical medieval Fantasy flair to it. This stock art is the perfect fit for Epic Fantasy titles likes RPGs, Sourcebooks, Boardgames, Cardgames, Player-Aids, Websites and more. The image is to a certain degree also usable in certain... [click here for more] | 1manstudio | $5.95 $4.99 |
| This product is part of our Stock Art Collection: Perfectly suited for publishers, games-designers and games-masters. Easy to use and at a affordable price! The image has a typical medieval Fantasy flair to it. This stock art is the perfect fit for Epic Fantasy titles likes RPGs, Sourcebooks, Boardgames, Cardgames, Player-Aids, Websites and more. The image is to a certain degree also usable in certain... [click here for more] | 1manstudio | $5.95 $4.99 |
| "Keep calm and fire on" - Pyromancer Quote Genre: Medieval/High-Fantasy Image Details: Full Color + Background (single layer) Image Format: PNG Keywords: Fire Wizard, Pyromancer, Sorcerer, Flames Variants: 2 (72dpi/300dpi) Variant A Size: 2500*1932px @ 72dpi Variant... [click here for more] | 1manstudio | $5.95 $4.99 |
| This product is part of our Stock Art Collection: Perfectly suited for publishers, games-designers and games-masters. Easy to use and at a affordable price! The image has a typical medieval Fantasy flair to it. This stock art is the perfect fit for Epic Fantasy titles likes RPGs, Sourcebooks, Boardgames, Cardgames, Player-Aids, Websites and more. The image is to a certain degree also usable in certain... [click here for more] | 1manstudio | $5.95 $4.99 |
| This product is part of our Stock Art Collection: Perfectly suited for publishers, games-designers and games-masters. Easy to use and at a affordable price! The image has a typical medieval Fantasy flair to it. This stock art is the perfect fit for Epic Fantasy titles likes RPGs, Sourcebooks, Boardgames, Cardgames, Player-Aids, Websites and more. The image is to a certain degree also usable in certain... [click here for more] | 1manstudio | $5.95 $4.99 |
| This product is part of our Stock Art Collection: Perfectly suited for publishers, games-designers and games-masters. Easy to use and at a affordable price! The image has a typical medieval Fantasy flair to it. This stock art is the perfect fit for Epic Fantasy titles likes RPGs, Sourcebooks, Boardgames, Cardgames, Player-Aids, Websites and more. The image is to a certain degree also usable in certain... [click here for more] | 1manstudio | $5.99 |
| This product is part of our Stock Art Collection: Perfectly suited for publishers, games-designers and games-masters. Easy to use and at a affordable price! The image has a typical medieval Fantasy flair to it. This stock art is the perfect fit for Epic Fantasy titles likes RPGs, Sourcebooks, Boardgames, Cardgames, Player-Aids, Websites and more. The image is to a certain degree also usable in certain... [click here for more] | 1manstudio | $5.99 |
| Ever dreamed of creating your own professional product? Always wanted to start your very own gaming company? Still searching for that specific piece of art to decorate the book you wrote? Did your dreams collapse due to unaffordable pro-artworks? Take a gasp of relief, because we at 1manstudio are here to help: Our Mythril Stock Art Line brings the awe-inspiring power of top notch... [click here for more] | 1manstudio | $11.97 |
| This product is part of our Stock Art Collection: Perfectly suited for publishers, games-designers and games-masters. Easy to use and at a affordable price! The image has a typical medieval Fantasy flair to it. This stock art is the perfect fit for Epic Fantasy titles likes RPGs, Sourcebooks, Boardgames, Cardgames, Player-Aids, Websites and more. The image is to a certain degree also usable in certain... [click here for more] | 1manstudio | $5.99 |
| This product is part of our Stock Art Collection: Perfectly suited for publishers, games-designers and games-masters. Easy to use and at a affordable price! The image has a typical medieval Fantasy flair to it. This stock art is the perfect fit for Epic Fantasy titles likes RPGs, Sourcebooks, Boardgames, Cardgames, Player-Aids, Websites and more. The image is to a certain degree also usable in certain... [click here for more] | 1manstudio | $5.99 |
| This product is part of our Stock Art Collection: Perfectly suited for publishers, games-designers and games-masters. Easy to use and at a affordable price! The image has a typical medieval Fantasy flair to it. This stock art is the perfect fit for Epic Fantasy titles likes RPGs, Sourcebooks, Boardgames, Cardgames, Player-Aids, Websites and more. The image is to a certain degree also usable in certain... [click here for more] | 1manstudio | $5.99 |
| This product is part of our Stock Art Collection: Perfectly suited for publishers, games-designers and games-masters. Easy to use and at a affordable price! The image has a typical medieval Fantasy flair to it. This stock art is the perfect fit for Epic Fantasy titles likes RPGs, Sourcebooks, Boardgames, Cardgames, Player-Aids, Websites and more. The image is to a certain degree also usable in certain... [click here for more] | 1manstudio | $5.95 $4.99 |
| This product is part of our Stock Art Collection: Perfectly suited for publishers, games-designers and games-masters. Easy to use and at a affordable price! The image has a typical medieval Fantasy flair to it. This stock art is the perfect fit for Epic Fantasy titles likes RPGs, Sourcebooks, Boardgames, Cardgames, Player-Aids, Websites and more. The image is to a certain degree also usable in certain... [click here for more] | 1manstudio | $5.95 $4.99 |
| This product is part of our Stock Art Collection: Perfectly suited for publishers, games-designers and games-masters. Easy to use and at a affordable price! The image has a typical medieval Fantasy flair to it. This stock art is the perfect fit for Epic Fantasy titles likes RPGs, Sourcebooks, Boardgames, Cardgames, Player-Aids, Websites and more. The image is to a certain degree also usable in certain... [click here for more] | 1manstudio | $5.95 $4.99 |
| This product is part of our Stock Art Collection: Perfectly suited for publishers, games-designers and games-masters. Easy to use and at a affordable price! The image has a typical medieval Fantasy flair to it. This stock art is the perfect fit for Epic Fantasy titles likes RPGs, Sourcebooks, Boardgames, Cardgames, Player-Aids, Websites and more. The image is to a certain degree also usable in certain... [click here for more] | 1manstudio | $5.95 $4.99 |
| This product is part of our Stock Art Collection: Perfectly suited for publishers, games-designers and games-masters. Easy to use and at a affordable price! The image has a typical medieval Fantasy flair to it. This stock art is the perfect fit for Epic Fantasy titles likes RPGs, Sourcebooks, Boardgames, Cardgames, Player-Aids, Websites and more. The image is to a certain degree also usable in certain... [click here for more] | 1manstudio | $5.95 $4.99 |