Follow Your Favorites!
Sign in
to get custom notifications of new products!

Featured Product
Lowlife 2090
by Pickpocket Press

Lowlife 2090 is a d20 based tabletop RPG of Cyberpunk & Sorcery set in 2090.
It combines fierce combat, dangerous magic, flexible PC customisation, and fast, integrated hacking in one tidy tome.
Includes the Mendoza City setting (60+ pages, City Map, 20 Districts, Factions, surrounded by post ap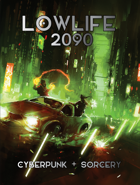 | Products found in this section... | Sort by: |
| --- | --- |
| | | |
| --- | --- | --- |
| Title | Publisher | Price |
| Lowlife 2090 is a d20 based tabletop RPG of Cyberpunk & Sorcery set in 2090. It combines fierce combat, dangerous magic, flexible PC customisation, and fast, integrated hacking in one tidy tome. Includes the Mendoza City setting (60+ pages, City Map, 20 Districts, Factions, etc - a labyrinthine Vertacity packed with 25 million nellers, surrounded by post... [click here for more] | Pickpocket Press | $20.00 |
| The Corporations control the world from their skyscraper fortresses, enforcing their rule with armies of cyborg assassins. On the Street, Boostergangs roam a shattered urban wilderness, killing and looting. The rest of the world is a perpetual party, as fashion-model beautiful techies rub biosculpt jobs with battle armored roadwarriors in the hottest clubs, sleaziest bars and meanest streets this side... [click here for more] | R. Talsorian Games Inc. | $15.00 |
| Do you play Cyberpunk RED, Shadowrun, or another cyberpunk tabletop RPG? Cut down your gamemaster prep time with 32 D100 random tables. Just like the first book, this book helps the gamemasters of cyberpunk tabletop role-playing games cut down their prep time. These random tables add details to campaigns and sessions with a roll of the dice. Find useful tables like Items in a Corporation Locker... [click here for more] | dicegeeks | $4.99 $2.99 |
| BANG! You're dead. Unless you stay hip with what's out there on the street being pointed at you, the next donor at the body banks is likely to be you. In this, the definitive guide to street weaponry, noted Solo Morgan Blackhand has compiled statistics and information on every knife, pistol, submachine gun, bullet, grenade, and piece of personal artillery available in 2020. Prices, damage capability,... [click here for more] | R. Talsorian Games Inc. | $6.00 |
| The cyber-style catalogs for the cyber-suave; don't go shopping without one! Weapons, cyberware, vehicles, fashions, food, gadgets, cyberpets, even where to shop! From full-body replacement to mini-jets, the Chromebooks are equally useful to high-rise Corps and Fixers on the Street. These books tell you what to do with those hard-earned Eurobucks once you''ve finished that Cyberpunk adventure. Chromebooks:... [click here for more] | R. Talsorian Games Inc. | $12.50 |
| The cyber-style catalogs for the cyber-suave; don't go shopping without one! Weapons, cyberware, vehicles, fashions, food, gadgets, cyberpets, even where to shop! From full-body replacement to mini-jets, the Chromebooks are equally useful to high-rise Corps and Fixers on the Street. These books tell you what to do with those hard-earned Eurobucks once you''ve finished that Cyberpunk adventure. Chromebooks:... [click here for more] | R. Talsorian Games Inc. | $12.50 |
| TO FIGHT THE CORPS YOU NEED TO KNOW THE CORPS Corporation Report 2020 combines the classic Merill, Asukaga & Finch Corporation Reports 1 thru 3 and spills the dirt on six of the biggest Megacorps of the 2020 era: Arasaka • International Electric • Lazarus • Militech • Petrochem • SovOil Read this book and you'll know the score. Each report... [click here for more] | R. Talsorian Games Inc. | $25.00 $12.50 |
| You can hear them moving up fast; faster than your meat legs can carry you. There's a snick as they pop the rippers and move in for the kill; you flatten against the alley wall, and brace your Minami against the slick, slimy stone. It's now or never, you think, slamming back the bolt and offering up a prayer to whatever dark and nameless gods might be listening. Maybe if you'd known this was Blood... [click here for more] | R. Talsorian Games Inc. | $11.00 |
| LISTEN UP, YOU WHINY SCREWHEADS!!! "Bob's super-Solo's killing everything he meets!" "My players always start the adventure in a bar!" "Why can't I get anyone to play Netrunners??" Does this sound like YOU? Refs. Let's be honest. You've heard this kind of whining before -- and aren't you sick of it? I mean just fed up to here ... so much that you wanted to leap across the table and kill the... [click here for more] | R. Talsorian Games Inc. | $5.25 |
| THE LONG ROAD HOME 2009 Long Range Team-601 left on its last mission. Four years in a savage SouthAm drug war with little support from home and no quarter given by the enemy. When the war ended, the team was scattered into civilian life, but their combat instincts, that craving for the rush of action, couldn't be purged. 2015 John "Professor" Freeman, Captain... [click here for more] | R. Talsorian Games Inc. | $6.00 |
| Where to go, what to see, who to kill... The modern Solo needs information in a concise and timely manner-and we at Solo of Fortune magazine are dedicated to meeting that need. In this year-end annual, we present some of the best of the last seven years, including your most-request features: J.T. and Bubba's weapons reviews! America's Top Ten Solos! Your favorite... [click here for more] | R. Talsorian Games Inc. | $8.00 |
| A State of Dis-union... "America's undergone flood, fire, and famine in the last thirty years. Along with Martial Law and one of the longest guerilla wars we've ever fought. There's gangs on the streets, pollution in the air, and the Corps looking down from above. But when the Outside gets too nasty, we still pull together and get the job done." "Why? 'Cause it's our country—and that's just the... [click here for more] | R. Talsorian Games Inc. | $8.00 |
| In the 21st century, no one and nothing has more effect on the people than the media, its creators, and its reporters. Military strength and economic might are hallmarks of nation-state and mega-corp alike, but it is influence-the ability to shape perceptions, opinions, and even emotions of billions of people worldwide-that ensures the power of the media. After all, it's larger than life, a projection... [click here for more] | R. Talsorian Games Inc. | $7.00 |
| MY PARENTS BECAME CYBERPUNKS AND ALL THEY LEFT ME WAS THIS DARK FUTURE... 2027.The Incorporated States of America rules the land of the fast-gun techno-hero with a cybered fist. And a terrifying new plague sweeps the wasteland that streetkid America has inherited from the Edgerunners of 2020. Now, with amazing powers beyond mere cybertech -- abilities that defy known science, a handful of angry... [click here for more] | R. Talsorian Games Inc. | $11.00 |
| HEAVY METAL--TO THE MAX!!! Blazing Tanks, Screaming Jet Fighters, and Stomping Power Armor. Helicopters chasing a motorcylist through twisting city streets; Corporate armor at war in some Third World country; huge metal forms crash a corporate board meeting -- This is Maximum Metal in action! MAXIMUM METAL is the military vehicle and powered armor supplement that "tops off" the CYBERPUNK 2020 combat... [click here for more] | R. Talsorian Games Inc. | $9.00 |
| Lt.DeVris pulled up the headset and yelled into it. "REECE! GO!" The headset crackled as Reece's voice came back to him. "Okay—we're proceeding up the stairwell. I don't think there's as many as—" The entire block shook with an almighty blast from the booby-trapped stairwell. Slammed in the pressure wave, a police cruiser flipped while another nearby caught fire. ... [click here for more] | R. Talsorian Games Inc. | $8.00 |
| Experienced. Available. Expendable. WANTED: Talented individuals possessing hi-tech weaponry and grey-to-black cyberware for extraction, bodyguarding, asset acquisition, smuggling, investigation, demolitions, codecracking, repossession, counter-repossession, damaging and messing with corporate property, organizational rivalries, secure computer systems, and engagement in other profitable but only remotely... [click here for more] | R. Talsorian Games Inc. | $7.00 |
| BEYOND THE EDGE The Earth turns silently below, a ball of seething humanity, trapped in an ever-more polluted environment. Meanwhile, desperate Edgerunners battle greedy Corps for what "good" living is left. Mankind has only one place left to go ... up ... and out. Out to a place of absolute cold and perfect clarity, where immense cylinder worlds spin in the sky; needle-like deltas speed on intercept... [click here for more] | R. Talsorian Games Inc. | $8.00 |
| ON THE RIM OF THE CYBERPUNK WORLD The Pacific Rim. The name conjures up images of high-tech glitterlands. Here every dream can come true, realized by the tech-wizards of the Orient. But under the Westernized exterior lie traditions thousands of years old, and beneath the clean streets lurks a shadow world more sinister than any American sprawl. This is the Edge of the CYBERPUNK gaming world: Hawaii... [click here for more] | R. Talsorian Games Inc. | $8.00 |
| "WHEELING, DEALING AND STEALING -- THAT'S LIFE ON THE STREET... ...and nobody knows it better than the man in the middle, the man who keeps the goods and the info flowing -- the Fixer. In this hot new supplement for everyone's favorite dealmakers, you'll get down to the dark underbelly of Cyberpunk; the "grungy, nervous, jury-rigged, and illegal" milieu of the urban go-between, where Money meets the... [click here for more] | R. Talsorian Games Inc. | $7.00 |
| HIGH PLAINS DRIFTERS In 2020s America, the urban sprawls that seem to stretch on forever are dwarfed by vast expanses of open country, abandoned after the collapse. Areas once choked with cities and humaity are now home only to lonely ribbons of asphalt, coyotes, jackrabbits ... and the NeoTribes. The NeoTribes -- nomads who have given up life under flourescent light and eating pre-pack, in exchange... [click here for more] | R. Talsorian Games Inc. | $7.00 |
| SLICK. POLISHED. DEADLY. AND IT'S BACK... RETURN ... to that land across the ocean; a place so smooth, so polished that rough-shod grunge-happy American cyberpunks find themselves skating on thin ice, sliding out of control to a fate which, though unknown, is far from uncertain. RETURN ... to Europe. Eurosource Plus is the guide to style-concious CYBERPUNK Europe, 2010-2020. Drawing on the depth... [click here for more] | R. Talsorian Games Inc. | $8.00 |
| RACHE IS BACK--AND HE'S GOT YOUR BRAIN! Don't panic! He's just borrowing your squishy cerebellum long enough to download Rache Bartmoss' Brainware Blowout, the ultimate compendium of Netrunner hardware and software. This file contains every cyberdeck, program, and piece of related electronics ever published by R. Talsorian Games. But that's not all: He's also pirated over a hundred new examples of... [click here for more] | R. Talsorian Games Inc. | $7.50 |
| Big Cities, Bright Lights, Beautiful Women & Limo Aerodynes... Music means money, and money means trouble. So what better place for a bunch of ice-cool Cyberpunk characters than the entourage of Jack Entropy, chart-topping badboy of the independent stateside music biz? Join in six adventures based around his triumphal tour of Europe. Chill music, hot action, Brit streetscum, French goldenkids,... [click here for more] | R. Talsorian Games Inc. | $6.00 |
| ENGLAND SWINGS! "The Martial Law's out and we've got a new Queen! IMA's crackin' along, so the country can actually feed itself .... Hell, even the Scots have settled down and behaved themselves. The Tourist Board's even bringing in money; we're a country again." ENGLAND EXPLODES! "Jackknife gangers raid a convoy on the M6; you can't leave your hold in the Cheshire conurb day or night without getting... [click here for more] | R. Talsorian Games Inc. | $7.00 |
| IT'S THE END OF THE WORLD AS YOU KNOW IT It was supposed to be a routine "hostile takeover": that polite euphemism that covers mass assassination and covert business warfare in the Dark Future. But now the two heaviest hitters in the CYBERPUNK reality are rushing at mach speed towards a head-to-head collision that will shatter the world! And you're right in the middle -- caught in the crossfire as... [click here for more] | R. Talsorian Games Inc. | $10.00 |
| The Rockerboy gyrates at the edge of the stage, the hypnotic beat throbbing from the speaker stacks at either side of him. Driven by energy and fury, he bears his soul to the audience. Captivated by the rockerboy's fire, the crowd's emotions become his personal plaything, to be directed at will. His word, delivered as lyrics thundering over the band, becomes gospel for those caught... [click here for more] | R. Talsorian Games Inc. | $6.00 |
| THE END OF THE WORLD: PART TWO You knew it had to happen: the Big Boys on the Corporate Block, ARASAKA and MILITECH have pulled off the gloves in a no-holds-barred slugfest for control of the arms market -- and the planet. Now, as brutal battles turn cities around the globe into rubble, Edgerunners everywhere are being fed into the meatgrinder of full-on corporate war. No "covert, low-intensity,... [click here for more] | R. Talsorian Games Inc. | $10.00 |
| RACHE NEEDS A FAVOR... Ace netrunner Spider Murphy is missing, and Rache Bartmoss, the schizophrenic spiritual leader of the Eden Cabal, wants the characters to find out what she's up to. But, as happens with so many of Rache's little projects, things rapidly get out of hand ... When the cyberkids pick up the trail, they find the steel-shod bootprint of one of the most powerful organizations in... [click here for more] | R. Talsorian Games Inc. | $3.00 |